Dr. Reggie Cochran
About Dr.Reggie Cochran, DCH
Dr. Reggie Cochran, PhD, DD, CPMA, DCH (Doctor of Clinical Hypnotherapy) is the project advisor / coordinator for Chuck Norris Enterprises and a business partner with Chuck & Gena Norris. Reggie is an internationally known Consultant, Coach, Speaker, Best Selling Author & Martial Arts Champion. Reg has co-authored books with Bill Gates, Donald Trump, Brian Tracy, Dr. Wayne Dyer, Deepak Chopra, to name a few. The latest book he coauthored "Think and Grow Rich Today hit #1 Best Seller status on Amazon the first day it was released. This earned him the coveted Quilly Award and induction into the National Academy of Best Selling Authors. His personal clients read like an international who's who directory filled with actors, entertainers, athletes and business professionals.
Reg is the Producer, Director & Co-host of two weekly world wide TV shows - The Christian Success Club (on The NOW Network) and QUITPROOF with Tom Jones. Both CSC and QUITPROOF have additional mentoring programs and podcast to help you become more successful in all areas of your life. You can follow both online at www.christiansuccessclub.net and www.quitproof.net
He is also the Founder of "The Mentors Club" which for the last 10+ years has been an online Success University filled with mentoring from some of the worlds greatest Mentors, Millionaires and Motivators. You can find out more about MC at www.MentorsClub.com

Dr. Reg is an Independent Strategic Intervention Coach. Reggie received his Strategic Intervention Coach training from the prestigious Robbins-Madanes Center, founded by Tony Robbins and Cloe Madanes. Reg is also an Independent Certified Coach, Teacher and Speaker with The John Maxwell Team. When time allows, Reg is available for Keynote speaking at corporate, youth & mentoring events. Please see his Speaking & Coaching pages for more details.

Reggie began his martial arts training in 1974. He has won many World Champion martial arts titles and has earned an 9th Degree Black Belt from his instructor, GM. Chuck Norris & 10th Degree Black Belt from GM Bill Su[erfoot Wallace, GM Jeff Smith, GM Joe Corley, GM. Pat Burleson & GM. Ted Gambordella.
He is on the Board of Directors of the United Fighting Arts Federation. The International Chinese Boxing Association and PKA World Wide. He has earned a 3rd Degree Black Belt in Brazilian Jiu Jitsu from Rickson Gracie and the JJGF. 7th Degree Black Belt in the Ivan Gomes Traditional Brazilian Jiu Jitsu style from GM Jose Gomes and the ITBJJ. Dr. Reg is also a Krav Maga 3rd Degree Black Belt and is a Master Level Kung Fu Sifu under Rob Moses. GM Reg is also a current member of the AJKAI (est 1945) and the USAJJ (est 1972).
He is a multi time martial arts Hall Of Fame member, Chuck Norris Man of The Year, Joe Lewis Eternal Warrior award, Chuck Norris Fighting Spirit award, Worlds Greatest Martial Artist All Time Top 100 award & recipient of the first Howard Jackson Memorial Award.
Keep reading to find out what others say about Dr. Reg
---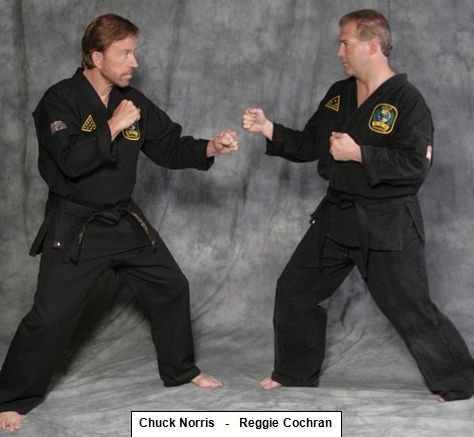 If you are tired of fighting to find a great speaker, hire Reg. Reggie Cochran is one of my top students and instructors. He is an expert at helping athletes improve their performance through the use of coaching, mental skills, training and motivation. He has mastered the art of helping people set goals, make commitments and follow through with whatever it takes to accomplish their goals. If you are looking to improve your personal or business performance, Reggie can help you succeed.
- Chuck Norris, TV & Movie Star - Best Selling Author - www.ChuckNorris.com
---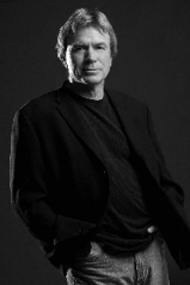 I have known Reggie Cochran for over 15 years. Reggie came to United Fighting Arts Federation from another discipline and during that time worked his way up to become a world-champion fighter and one of our highest ranking black belt instructors. Today he is on the Board of Directors and on his own time comes out to train other instructors and do work for the organization. He is a very giving man and I think the world of him. Reggie has a unique ability to bring out the best in people on a personal and business level. As a "peak performance" coach Reggie is second to none. He comes into a room and in no time flat, he is in charge, people respond to his warmth and authority. If you are looking for a mentor, seminar trainer, life coach or keynote speaker, I unhesitatingly recommend Reggie Cochran

- Aaron Norris, CEO United Fighting Arts Federation, Actor & Award winning Director
---
I've known Reggie Cochran for over five years now. He has been a martial arts champion and top instructor for years but you'd never know from just talking to him. He let's his actions speak for itself. That's humility. If your looking for someone who can bring out the best in you or your employees on a professional or personal level, Reggie is your man. Whether it's mentor, speaker, coach or trainer, I highly recommend Reggie Cochran. I feel it's a privilege to be able to call him my friend.

- The "Million Dollar Man" Ted DiBiase, Pro Wrestling Legend and President of Heart of David Ministries

---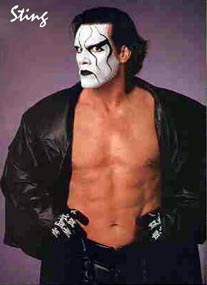 Reggie is highly respected in his field. He has a knack for networking people together for the good of everyone involved. Reggie is a positive thinker who always believes in the best. He is very successful in bringing out the best in others. If you want more out of life, Reggie Cochran can help.

- Steve "Sting" Borden, Pro Wrestling Super Star and Actor
---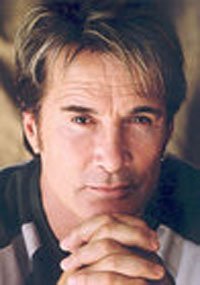 I have taught and trained with Reggie Cochran for many years. He is a great friend and fun to work with. As an instructor, Reggie has a natural ability in helping people improve their mental and physical skills. If peak performance is your goal, Reggie Cochran can help.

- Richard Norton, Action Star & Internationally known Martial Arts Expert.
---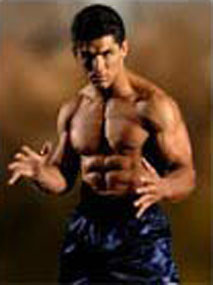 Reggie Cochran is one of my top students and instructors of the Shamrock Submission Fighting System. I highly recommend Reggie's seminars, books and training tools.

- Frank Shamrock, World Champion Mixed Martial Arts Fighter
---
Before working with Reggie, I was already successful in several areas of the music industry. I have been awarded 3 Gold Records and one Platinum.. However since Reggie became my Life Coach, he has helped me define my career and goals better than anyone I have worked with. In just a few short weeks, Reggie was able to take my talents and goals to levels I did not believe was possible. Reggie's Life Coaching skills have changed my world.

- Wayne Musgrave (co-writer of the famous Dr.Pepper & Almond Joy-Mounds commercial jingles)
---
We agree that Reggie would make a worthy addition to the Black Belt Hall of Fame.

- Robert Young, Editor, Black Belt Magazine
---
I have known Reggie Cochran for many years and have used him as a motivational speaker and a demonstrator of the martial arts at company functions. Reggie will make a presentation to any group interesting and exciting. But most of all it is fun and informative. I would recommend him highly as a speaker.

- Bob Fruend, Executive Vice President, American National Insurance Company
---
I have know Dr. Reggie Cochran and his family for many years, working in the related field of financial counseling. Reggie has befriended me, and made himself available to me in such a selfless way that I am honored and humbled. He has invested in me his time, his loyalty and his creative energy, basically for no material benefit to himself, but to the extent that I and my practice will benefit for years to come. I am in his debt. If you are someone who is good in his/her field, but needs help in marketing / public relations / advertising / getting your name out /networking / expanding your practice or business, then Dr. Reggie would be someone whose heart, skills and talents would be worth searching out. I hope and trust that any person of integrity who aspires to entrepreneurship would be blessed with a friend, mentor and collaborator such as Dr. Reggie.

- Joe Pantozzi, CLU, ChFC, MDRT Life membership
---
If you were able to package dynamic, energy, and motivation into one word, you would get Reg! Dr. Reg taught me life changing ideas and concepts, then gave me the motivation to implement them. He is truly one of greatest motivators of our time.

- Mark Miletello, MLGA
---
An author, speaker, coach and one of Chuck Norris's top students and my friend, Dr. Reggie Cochran walks his talk. He has the gift of getting others to walk their talk as well. So whether you are looking for a keynote speaker, Coach, TV or radio show guest, I highly recommend Dr. Reggie.

- Dr. Stan Harris, 10th Degree Black Belt - Hall of Famer, Author & Speaker
---
Dr. Cochran is one of the most knowledgeable and professional people that I can call a mentor and friend.

- Stephen Hammersley, CPMA, UFAF Board of Directors, Owner www.americanmartialarts.com
---
Dr. Reggie Cochran has been my extremely valuable Coach, Advisor, Colleague and Friend for many years. When I am in touch with Dr. Reg about anything, I can absolutely depend on being blessed by his wisdom, his insights, and his absolutely impeccable integrity.
- Dr. Ron Mueller, Author, Speaker, Home-based Business Tax Savings Expert, www.TaxSavingsGuide.com